Arsenal's summer signing has been on top of his game with the North London side, proving why his price tag this summer was worth the buy.
Oleksandr Zinchenko's £32 million transfer from Manchester City to Arsenal has redefined the Gunners for the better. The Ukrainian international has defined the LB position and has given way better opportunities for Granit Xhaka and Gabriel Martinelli.
Zinchenko had a masterclass performance against Tottenham in the North London Derby. WhoScored.com gave Zinchenko a 7.4 match rating, the best out of all defenders in the match. Zinchenko also led the match in Aerials Won, tackles and was tied for first in dribbles with Kane and Nketiah. Zinchenko has created the Gunners into one of the most complete teams while also helping with attacking chances and creating space.
Zinchenko played another great match against Manchester United. His presence was felt in the defense with two tackles, keeping Antony to a minimum and frustrated. He opens the play up and draws pressure on the defense, opening up the play for the midfielders. Zinchenko also played the cross that led to the game-winning goal for Eddie Nketiah. People were classifying him as their MOTM and were in the running for the award.
The only Ukrainian I need in my life…
GET IN THERE!🇺🇦❤️ pic.twitter.com/xt4qtoOuoo

— now.arsenal (@now_arsenaI) January 15, 2023
Highlights of Zinchenko in the Derby show how much he opens up the field and creates opportunities in the field. He sustains pressure, and he gets rid of opponents' pressure. He creates counterattacks and many opportunities for the forwards to score. Here are some of his great moments in 2 minutes:
Oleksandr Zinchenko put on an absolute clinic today in the North London derby. The Ukrainian is a cheat code in possession, and amongst the most technically secure ballers in the Prem. Brilliant signing from Edu and Arteta – so key to their project 🔴
pic.twitter.com/bYpdIybiRc

— Stoppage Time (@StoppageTime_FC) January 16, 2023
Zinchenko made Manchester City one of the best teams in Premier League history. Now, instead of being a side lead in the young Arsenal squad, he is a top target for the club.
Zinchenko's playstyle is not the conventional attacking left-back. Usually, the wings are attacked by an inverted run. However, he has used his central midfield experience to run inside and transform the wings into more space for Gabriel Martinelli.
Credit to SkySports, Zinchenko's numbers do all the talking. Per 90 minutes, he leads in key statistical categories like touches, passes in the final third completed, and opponents half completed in his ten appearances. Also, only five players make more final third passes this season. All from Manchester City: Kyle Walker, Joao Cancelo, Kevin De Bruyne, Rodri, and Riyad Mahrez. Kyle Walker said, "He's incredible…incredible. Two touches, head tennis, he's so good, so so good." Arsenal and Premier League fans now see what Kyle Walker meant in this quote this summer.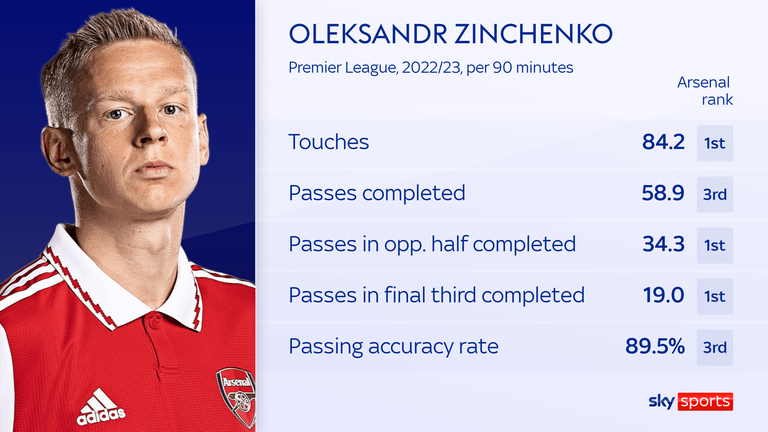 According to fbref.com, Zinchenko has great numbers vs. Fullbacks in the last 365 days. To list some numbers, Per 90 minutes, Zinchenko is in the 99th percentile for Progressive Passes (6.84), 97th for passes attempted (84.32), 96th for Pass Completion percentage (87.1%), 95th in Assists (.28), and 94th in Aerials won (1.93).
Zinchenko's defensive presence isn't what his game is. With two starting solid defenders, William Saliba and Gabriel, behind him, Zinchenko has the privilege of being the attacking fullback and opening up play. A favorite statistic of Zinchenko's come from his goal and shot creation. Zinchenko is amazing in GCA (Goal-Creating Actions). In GCA, Zinchenko is 95th percentile (.50), 90th in GCA PassLive (.33), 95th in GCA Drib (.06), and GCA Sh (.06), and 99th in GCA Def (.06). When Zinchenko is at his role, he creates goals. Goals that do not show up on the stat sheet; rather he is the bridge to the goal. He is the pass that leads to an assist, or the dribble that opens up play, or the interception that leads to a goal. Zinchenko is quality in making chances for the Gunners.
However, Zinchenko's offensive game has pleased our defensive work as well. In the 11 appearances Zinchenko started, 6 out of 11 were clean sheets. In games, Zinchenko has not started; only 3 out of 8 games were clean sheets.
Zinchenko has filled in for Scottish left-back Kieran Tierney. Tierney was the formidable left-back for 2021-2022. Credit to SkySports, they compared the numbers between the two and the heatmap between Tierney last season and Zinchenko this season.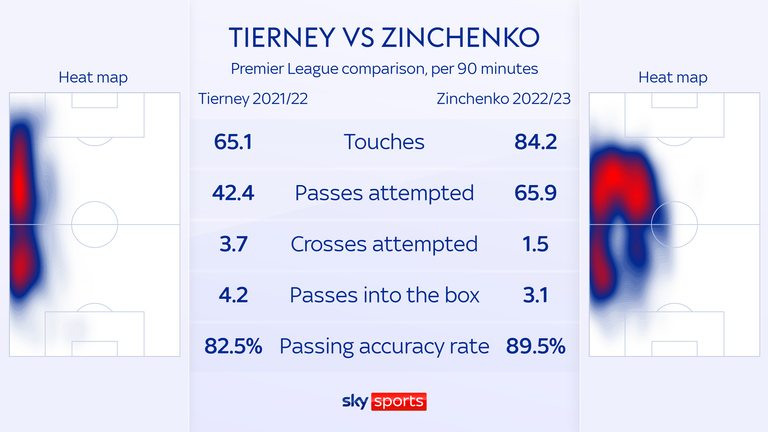 Tierney has the advantage for crosses attempted and passes into the box; however, two main factors show Zinchenko's difference. Zinchenko is way more central than Tierney and gives more space down the left wing than Tierney. Touches way higher and has better-passing accuracy on more attempts. This is what makes Martinelli a key player for the Gunners.
Zinchenko has lifted this Arsenal team from one with struggles to strengths. He's made them top contenders and helped them to become leaders in the title race. Arsenal is trying to win their first league title since the 'Invincibles' in 2003/04. Zinchenko has played a huge role in making them current league title favorites. The Ukrainian has been one of the missing puzzle pieces in Arteta's masterclass managerial performance this year.